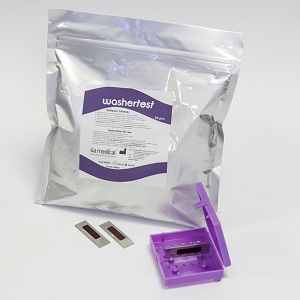 Product Features 
Cleaning and disinfection are critical aspects of the instruments reprocessing loop. That is why 4A Washer Test is designed for validation and the routine monitoring of the cleaning efficiency of cleaning processes in washer disinfectors for surgical instruments.
4A Washer Test is for fast and clear visual assessment of cleaning resuts. Each washer test is single use only.
4A offers 3 different types of washing tests:
4A Washer Test: This Washing Test does not have its own plastic frame, so it is necessary to use other frames or boxes. For this Washing Test 4A is also manufacturing 4A Wash Test Holder.
4A Washer Test with Glass: Washer Test with Glass has its own frame and does not need any other frame or box.
PLS Washer Test Indicator (4APLS): PLS Washer Test Indicator has been carefully designed to perform in an equivalent manner to 'test soils' by providing a realistic multiple challenge for the washer disinfector machine. 4A is also producing PLS Washing Test Holder for 4A PLS Washing Test.
Note: Products can be produced with your trademark
| | | |
| --- | --- | --- |
| | | |
|   |   |   |
| | | |
|   |  Washer Test with Glass |  PLS Washer Test Indicator |