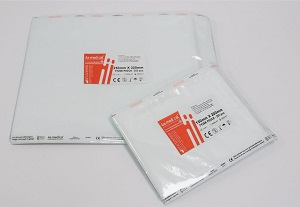 Product Features 
• It is specifically made for Hydrogen Peroxide gas plasma sterilization.
• Transparent , multilayer co-polymer film allows easy identification.
• Reinforced film to avoid tear during opening
• Water based, Hydrogen Peroxide indicator
• Strong seal-strength, visible sealing lines
• Clean fibre-free opening.
• All materials comply with international standards.
• Opening direction marked.
• Conformity with EN 868-5.
• While it is compatible with Hydrogen Peroxide sterilization system, it's also used for ethylen oxide and gamma sterilization if needed.
• Tyvek Pouches are products of which three sides are closed and one side needs to be closed by final user using closing machine before sterilization process.
Note: Products can be produced with your trademark.
Product Types and Sizes
They are pre-cut size sterilization pouches according to customer request.