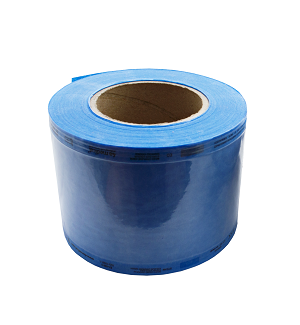 Product Features 
4A Sterilization Reinforced Reels have more resistance than normal reels and they are produced from 60g non-woven paper and 52 micron film. This kind of reels offer a high tearing resistance and high permeability.
4A Sterilization Reinforced Reels are manufactured with one side non-woven and one side film. It is considered a single use product and can be used in sterilization process with steam, ethylene oxide and formaldehyde. Indicators for each process are printed on reels.
Note: Products can be produced with your trademark.


Product Types and Sizes
| | | |
| --- | --- | --- |
| Product Code | Product Name | Product Sizes |
| 4ARFR050100 | 4A Sterilization Reinforced Reels | 50mmx100m |
| 4ARFR075100 | 4A Sterilization Reinforced Reels | 75mmx100m |
| 4ARFR100100 | 4A Sterilization Reinforced Reels | 100mmx100m |
| 4ARFR150100 | 4A Sterilization Reinforced Reels | 150mmx100m |
| 4ARFR200100 | 4A Sterilization Reinforced Reels | 200mmx100m |
| 4ARFR250100 | 4A Sterilization Reinforced Reels | 250mmx100m |
| 4ARFR300100 | 4A Sterilization Reinforced Reels | 300mmx100m |
| 4ARFR350100 | 4A Sterilization Reinforced Reels | 350mmx100m |
| 4ARFR400100 | 4A Sterilization Reinforced Reels | 400mmx100m |