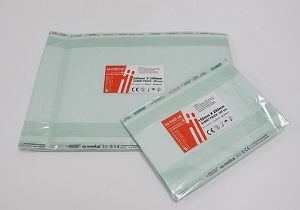 Product Features 
•Medical Paper provides maximum safety.
•Pouches constructed from high grade medical kraft paper and multilayer transparent co-polymer film.
•Strong seal strength.
•Superior barrier and quality with 60gsm or 70gsm medical kraft paper.
•Indicators which are water based , non toxic and give accurate result for steam, EO Gas and Formaldehyde (FO)
•Strong seal-strength, visible sealing lines.
•Clean fibre-free opening.
•All materials comply with international standards.
•Opening direction marked
•Conformity with EN 868-5.
•Gusset pouches have more internal volume comparing to flat pouches owing to the special design of the co-polymer film.
•Apart from those standard sizes, as long as the width is one of the standards, there is no limit at lengths.
•Gusset Pouches are packed as 100 pieces wrapped in film according to requested dimension.
Note: Products can be produced with your trademark.
Product Types and Sizes
They are pre-cut size sterilization pouches according to customer request.
Product Video