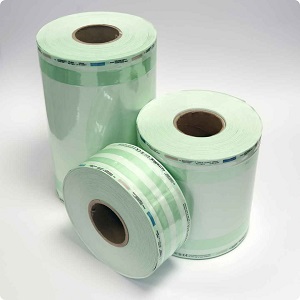 Product Features 
Product Features
• Medical Paper provides maximum safety.
• For thick medical device packaging.
• All imprint are located outside the packaging area to prevent ink pigment migration to the product.
• Transparent , multilayer co-polymer film allows easy identification.
• Reinforced film to avoid tear during opening.
• Superior barrier and quality with 60gsm or 70gsm medical kraft paper.
• Indicators which are water based , non toxic and give accurate result for steam, EO Gas and Formaldehyde (FO)
• Strong seal-strength, visible sealing lines.
• Clean fibre-free opening.
• All materials comply with international standards.
• Opening direction marked.
• Conformity with EN 868-5
• Gusset Reels has increased filling volume and can hold an increased amount of volume in comparison with Flat Reels.
Note: Products can be produced with your trademark. Any dimension between 7,5cm – 50cm can be made on request.
Product Types and Sizes
| | | |
| --- | --- | --- |
| Product Code | Product Name | Product Sizes |
| 4AGR050100 | 4A Sterilization Gusset Reels | 50mmx100m |
| 4AGR075100 | 4A Sterilization Gusset Reels | 75mmx100m |
| 4AGR100100 | 4A Sterilization Gusset Reels | 100mmx100m |
| 4AGR150100 | 4A Sterilization Gusset Reels | 150mmx100m |
| 4AGR200100 | 4A Sterilization Gusset Reels | 200mmx100m |
| 4AGR250100 | 4A Sterilization Gusset Reels | 250mmx100m |
| 4AGR300100 | 4A Sterilization Gusset Reels | 300mmx100m |
| 4AGR350100 | 4A Sterilization Gusset Reels | 350mmx100m |
| 4AGR400100 | 4A Sterilization Gusset Reels | 400mmx100m |
| 4AGR450100 | 4A Sterilization Gusset Reels | 450mmx100m |
| 4AGR500100 | 4A Sterilization Gusset Reels | 500mmx100m |